William Gouldburn died despite seven 999 calls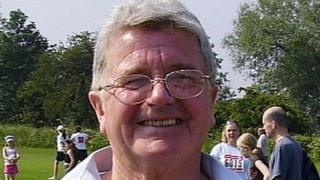 The family of a man who died, despite seven 999 calls for an ambulance, said he was failed in his "moment of need".
William Gouldburn, 73, from Hartlepool, died two hours after collapsing in his bathroom on 21 April last year.
A coroner said Mr Gouldburn's death was a "sad consequence" of a lack of ambulance resources.
The North East Ambulance Service NHS Trust said it was having to deal with twice the number of emergency calls it was handling 10 years ago.
Union officials claimed Mr Gouldburn's death showed the ambulance service was at "breaking point" in the face of government cuts.
An inquest heard the former special needs teacher's family and carer made seven calls requesting an ambulance, but that the case was not regarded as the most serious emergency.
Patient care
When paramedics arrived they pronounced Mr Gouldburn dead.
Hartlepool coroner Malcolm Donnelly ruled Mr Gouldburn died from natural causes resulting from an existing heart condition.
In a statement his family said: "This should never happen again to anyone. We simply want recognition from the trust that a mistake was made, and that the trust failed a fantastic man.
"He gave his life to helping others and the trust failed him in his moment of need.
"We hope they will make sure as best they can this will never happen again to another family in Hartlepool."
David Atkinson, from health union Unison, said: "We are in our third year of government-imposed savings and staff are being stretched to the absolute limit. The service is at breaking point.
"The trust needs to accept that the cuts are affecting patient care and analyse where money is being spent."
An NEAS spokesman said: "We are currently the highest performing ambulance service in the UK. All ambulance services are paid enough money to reach 75% of the most urgent patients within eight minutes.
"NEAS do it 80% of the time. Our average response time is five minutes. Prioritising ambulances to patients in immediate danger of death means that patients in non-emergency situations may face a delay.
"Calls to the ambulance service have more than doubled over the last 10 years and it's an upward trend that continues year on year. On average, we deal with 1,300 999 calls per day."