Stockton Council hits back at 'scaremongering' over Yarm cobbles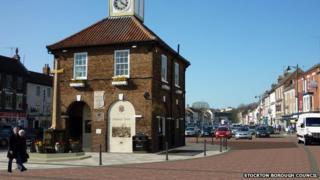 Claims that cobbles along the length of a Teesside town's high street are to be replaced with Tarmac have been rubbished by the local council.
Stockton Borough Council said "inaccurate claims" have surrounded plans to improve paving around Yarm Town Hall and war memorial.
It added it wanted to "set the record straight" over other suggestions, which have included purple paving being laid.
Yarm's chamber of trade and residents' association have voiced concerns.
'Ludicrous claims'
The local authority said existing cobbles need replacing because of damage caused by traffic.
Council leader Bob Cook said: "Sadly, many of these ludicrous claims are the result of scaremongering.
"Contrary to some suggestions, we are not planning to replace all of the cobbles in Yarm High Street.
"What we are planning is a scheme to provide improved access to the war memorial and Town Hall, which houses a disabled toilet."
The cobbles around the Town Hall are due to be replaced with Yorkshire stone with granite cobble setts surfacing the road around the adjacent loading bay.
Last month the residents' association launched a petition calling for greater consultation over the plan while the chamber of trade warned against anything that would radically change the area's look.
Work is due to begin on 22 April and be completed by the end of July.