Cleveland Police to close 'underused' Yarm station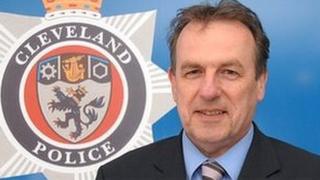 Yarm police station near Stockton is to close after a study showed more people used it to ask for directions than to report crimes.
Cleveland Police and Crime Commissioner Barry Coppinger said the move would save the force £19,000 a year.
But, Stockton South's Conservative MP James Wharton said the decision was made without consultation and would "damage public trust" in policing.
A handful of civilian staff employed at the station will be redeployed.
Last year, the Cleveland force warned almost 100 jobs would be lost and some stations closed as part of plans to save £6.6m over the next two years.
'Out of the blue'
Mr Coppinger said: "I have carefully considered the proposals around Yarm Police Office and I do not underestimate the significance of this for local residents.
"Sadly, because of the government cuts imposed on the force, I am now in a position where I have to choose buildings or people, and as I have given a commitment to maintaining and developing neighbourhood policing, the choice will be people every time."
Mr Coppinger said that between January and June last year there were 596 visits to the High Street station, of which only 90 were to report crimes - 10 fewer than the number asking for directions. The bulk of the remainder were for deliveries, lost property and contractors.
Mr Wharton said: "This decision has come out of the blue with no consultation.
"Cleveland Police cannot afford to further damage public trust and yet that seems to be what the police commissioner is intent on doing."
The force's deputy chief constable Iain Spittal added: "The force remains absolutely committed to neighbourhood policing, but our neighbourhood officers do not sit behind desks waiting for people to enter a building."