Darlington thief thought fish would survive out of water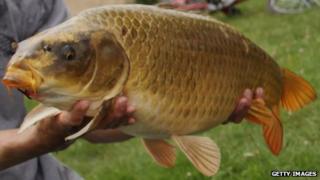 A man hid a stolen fish in his clothes believing it could survive out of water for 24 hours, police have said.
Officers in Darlington caught the man with the £70 Ghost Carp in a small sports bag stuffed under his coat.
He had scooped the fish from a display pond at Elm Ridge garden centre but was detained by staff, Durham Police said.
The man was fined £90 and will be required to write a letter of apology. The fish was returned to the pond apparently unharmed.