Ray Mallon newspaper column paid for by taxpayers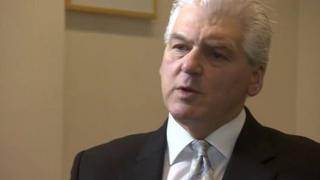 A column printed in a Nottingham newspaper in the name of Middlesbrough mayor Ray Mallon was paid for by the town's taxpayers, BBC News has learned.
Middlesbrough Council was billed by Mr Mallon's private communications adviser for the article ahead of Nottingham's 2012 mayoral referendum.
The council said the mayor had responsibilities that extended beyond the boundaries of the town.
The payment emerged following freedom of information requests.
Cross Media Services has received more than £187,000 from the council since Mr Mallon was first elected in 2002.
The town's independent councillors association described the spending as "truly shocking".
The firm, the council explained, provides "required services including support to the elected mayor and provides specialist professional support and advice to complement the in-house [press office] provision".
In a statement, independent councillors Peter Cox, Brian Hubbard and Mick Saunders, said: "It's an additional cost to the council taxpayer of Middlesbrough as Mr Mallon already has an expensive PR department at his disposal who are employed at Middlesbrough Council.
"The mayor is imposing huge cuts that are affecting the lives of thousands of residents, yet he is spending their money this way - money that could be used to save services across the town.
"It's clear that the mayor's message is 'do as I say, not as I do'."
'Extremely specialised work'
In the Nottingham Post column Mr Mallon urged readers to vote for the elected mayor system.
"The buck stops with the mayor," the column read. "It's about identifying the particular priorities for the whole of your city, not a particular ward, and taking responsibility for getting things done."
Voters in Nottingham rejected the mayoral system.
The mayor wrote a regular column for the Northern Echo newspaper until January and in his final piece thanked Ian Cross for helping to "knock his ideas into shape".
Middlesbrough Council said the Northern Echo columns were a personal matter unrelated to his role as mayor.
Cross Media Services did not go through a tendering process before working for the mayor, the council explained.
"Due to the fact that the work is extremely specialised, requiring significant experience and understanding of very localised issues, officers sought and obtained, through the relevant council procedures, a dispensation from the council's contract standing orders."
Mr Mallon is due to stand down in 2015 after winning three elections and serving for 13 years. Voters in Middlesbrough voted to retain the mayoral system in a referendum last year.