Plans for £100m County Durham leisure park unveiled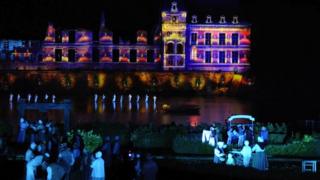 Plans to create a £100m leisure park near a County Durham castle have been unveiled.
Businessman Jonathan Ruffer - whose donation saved Auckland Castle - is behind the project, which it is hoped will create jobs and boost the economy.
Historical re-enactment shows and a park aimed at attracting 800,000 visitors a year are part of the plans.
Bishop Auckland MP Helen Goodman welcomed the planned economy boost but had concerns about visitor numbers.
The Eleven Arches Trust, which is behind the proposals, wants to produce large-scale shows from 2016, with the introduction of an "historical" park in 2020.
'Shared vision'
The performances will be based on the Puy du Fou, in France, which has been running shows since 1978. The plan is to host shows 30 times a year before crowds of up to 6,000 people.
Bishop Auckland Civic Society chairman, Dr Robert McManners, described it as an "exciting" project.
He said: "This is a wonderfully unique opportunity for the whole community to come together in a shared vision to enable our town to prosper."
The night-time shows would create 10 full-time jobs as well as 600 volunteer positions. The plans include creating an academy to train volunteers.
The park facility is expected to create 128 full-time jobs by 2020 when it opens and 300 by 2024.
Mr Ruffer, who bought Auckland Castle in 2012, has donated £25m towards turning it into a tourist and heritage destination.
He said he believed the show and park would be a "winning formula".
A planning application is due to be submitted to Durham County Council.