Castle Eden crisp fire burns 13 tonnes of reject snacks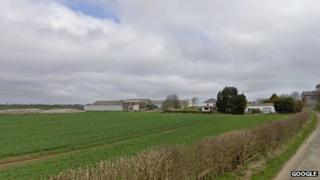 Thirteen tonnes of crisps have caught fire at a farm in County Durham.
The snacks had been cooked at a nearby factory and taken to Hulam Farm near Castle Eden for recycling after failing quality control.
The site is run by Sugarich which turns rejected or surplus food like crisps and biscuits into animal feed.
Director Alex Keogh said the firm had "protocols in place to make sure product doesn't come onto the premises hot" and this incident was isolated.
The crisps had been delivered on Friday and a small hot spot had not been detected, he said.
A member of staff saw the pile smouldering earlier and called the fire service.
Peterlee fire station watch manager Mick Henderson said the still-hot crisps had self-ignited.
Firefighters had to dig them out of the barn and spread them on the ground before hosing them down, he said.