Landslip near crumbling Barnard Castle to be repaired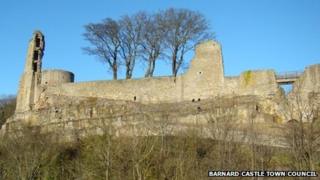 A landslip near a crumbling 12th Century castle in County Durham is to be repaired.
Sections of Barnard Castle's walls collapsed five years ago, but no-one accepted responsibility and the damage was not dealt with.
Durham County Council, English Heritage and Raby Estates agreed last year to fund a £50,000 structural survey.
Remedial work is planned in the meantime on the "localised land slippage" near houses along Bridgegate.
On Tuesday, the earth will be formed into an embankment to contain further movement.
Engineers are looking at the area between the houses and County Bridge to assess damage and draw up a feasibility study for future preservation.