Under-fire Teesside coroner Michael Sheffield to retire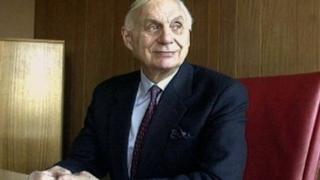 England's longest-serving coroner, who was been criticised for failing to clear a backlog of inquests, has announced he is to step down.
Teesside's Michael Sheffield, 83, faced resignation calls after a review found inquests took an average of 44 weeks to complete - the national average is 27.
Mr Sheffield, who held the post for 40 years, will retire at the end of April.
An inquiry into delays on Teesside recommended he be issued with "informal advice" by the Lord Chief Justice.
Local MPs accused Mr Sheffield of presiding over a service "in crisis" amid a barrage of complaints from bereaved relatives.
But while the investigation into delays by the Office of Judicial Complaints (OJC), which reported last year, urged Mr Sheffield to keep delays "under constant review", he was cleared of any direct blame.
'Good news'
Mr Sheffield's decision to step down was welcomed by Redcar's Liberal Democrat MP Ian Swales, who said he was "delighted" the area was to get a new coroner.
Middlesbrough Labour MP Tom Blenkinsop added: "This is good news for families across Teesside, as I have been asking for Mr Sheffield to consider his position ever since becoming an MP. It is now time to start afresh with a new coroner."
A statement, released on Mr Sheffield's behalf by Cleveland Police, said: "His [Mr Sheffield's] retirement follows the implementation and satisfactory progress in the increased resourcing and administration of the Teesside Coroner's Office after the national reforms which came into effect in July 2013.
"Mr Sheffield will retire at the end of April this year and extends his best wishes to his successor and to those who have worked with him."
Middlesbrough mayor Ray Mallon said: "Unfortunately, there have been some difficulties with the coroner's service over the past 10 years or so which have been the subject of much public debate.
"This was an unfortunate episode, but I am pleased that much progress has been made over the past 12 months."