Mark Bushnell search: Family 'realistic' about outcome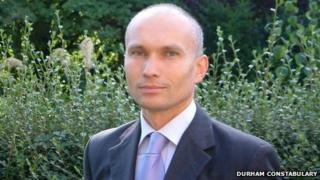 The family of a missing boarding school deputy head who vanished almost a week ago are facing up to the chance he may not be found alive, police said.
Mark Bushnell, who works at Durham School, was last seen on 9 March when he left home in Durham City.
His car was later found at a clifftop car park at Blackhall, near Peterlee. On Monday there was also an unconfirmed sighting of him at a caravan park.
But Durham Police said his family was being "realistic" about finding him.
This weekend searches are being carried out at Blackhall Rocks and Crimdon Dene caravan park for the married father-of-three, police said.
'Highly regarded'
Police community support officers will also be in the car park and caravan park on Sunday, handing out leaflets about the case.
Insp Dave Coxon said: "We spoke at length to Mark's family yesterday and they are very realistic about the chance of a positive outcome.
"With the help of the other agencies we have covered a huge area on land, in the sea and by air over the last few days."
He added: "We have also used specialist sniffer dogs in the hope of finding a clue which might indicate where Mark has gone.
"Everything we have learned about him indicates a devoted family man who is very highly regarded by all who know him."