Cleveland Police akin to 'medieval fiefdom' says IPCC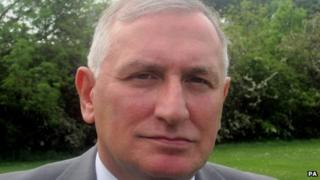 The police watchdog has described the Cleveland force under the leadership of two now sacked officers as "reminiscent of a medieval fiefdom".
Chief Constable Sean Price and his deputy Derek Bonnard were sacked after separate conduct investigations.
The Independent Police Complaints Commission (IPCC) comments come after a three-year corruption probe.
The £4m Operation Sacristy investigation resulted in 10 arrests, but no criminal charges.
In a scathing attack on the culture of the force under Mr Price and Mr Bonnard, IPCC commissioner Cindy Butts said senior officers "sought to gain personal benefit from the public purse".
She said Mr Price, who was one of those arrested, lied to the IPCC during a conduct investigation, which saw him sacked for gross misconduct.
Mr Price and Mr Bonnard, who was also sacked for gross misconduct, both maintained their innocence throughout the investigations and are planning appeals.
'Shameful behaviour'
A disciplinary hearing found Mr Price had asked a member of staff to inquire about a job for the former police authority chairman Dave McLuckie's daughter, then denied doing so when he was investigated by the commission.
Ms Butts said: "The decision by the Crown Prosecution Service not to bring charges following the Operation Sacristy criminal investigation brings a sorry chapter in the history of Cleveland Police to an end.
"This investigation exposed a culture at the top of Cleveland Police which was reminiscent of a medieval fiefdom. Senior officers sought to gain personal benefit from the public purse, showing a complete disregard for the public they had been appointed to serve.
"The fact Mr Price and Mr Bonnard are no longer serving police officers shows the worth of the investigations that have been carried out. Their shameful behaviour has damaged the reputation of Cleveland Police and the police service generally.
"These officers sought to further their own selfish agendas. The investigative work by the IPCC and Operation Sacristy has put an end to that."
Documents relating to the case have been released as part of the Operation Sacristy Publication Scheme and by the IPCC.