Hartlepool flood defence plan backed by councillors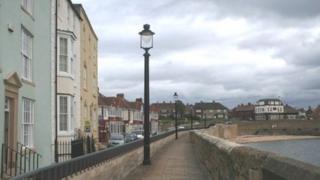 Plans to protect more than 200 properties in Hartlepool from flooding have been backed by councillors.
The £1.5m scheme by the Environment Agency, aims to safeguard about 230 buildings along Headland Town Wall.
The 100-metre (330ft) wall is designed to protect from rises in sea levels and contain water at times when high seas crash over the Town Wall.
Hartlepool Borough councillor Peter Jackson, said "every possible step" should be taken to protect the area.
The scheme also involves the construction of a drainage culvert underneath the footpath behind the Town Wall, with an outfall leading to the sea.
The council said 207 properties were currently deemed to be at "very significant risk" of flooding while a further 23 properties faced a "significant risk".
Mr Jackson said: "When you look at the devastation caused by flooding down south, it doesn't bear thinking about if that was to happen here.
"We should take every possible step to protect properties in Hartlepool."
The council's Neighbourhood Services Committee approved the plans for the construction of a new wall set back from the existing Town Wall which is a Scheduled Ancient Monument.
The structure was built in the early 14th Century as a protection against attack from Scotland.
The council said the scheme cannot go ahead until planning permission and Scheduled Monument consent from English Heritage is approved.