Shildon railway museum locomotives attract record visitors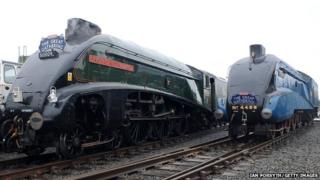 A record number of people have visited a County Durham railway museum to see the last six surviving A4 class steam locomotives.
Nearly 120,000 people from as far as the United States and China visited the free nine-day exhibition at Locomotion: National Rail Museum in Shildon.
Manager George Muirhead said more than 17,000 people visited on Saturday, the busiest day ever at the museum.
He added that everyone was "shell-shocked" at how well the event went.
The reunion of the six surviving A4 locomotives, Mallard, Union of South Africa, Dominion of Canada, Bittern, Sir Nigel Gresley and Dwight D Eisenhower, was predicted to attract 70,000 visitors.
"We are actually a bit shell-shocked today," Mr Muirhead said.
"The event far exceeded our expectations. If anyone had said we would get over 100,000 visitors, I wouldn't have believed them.
"It was tremendously hard work, but we really enjoyed it."
Train enthusiast Vincent Swift, who came from China, said it was a "once in a lifetime opportunity".
The Great Goodbye exhibition was part of a year of celebrations for Mallard's 75th anniversary.
Mallard hit a top speed of 126 mph (203km/h) on the East Coast mainline 75 years ago - a record that still stands.