Star Wars toy valued at £50 sells for £7,000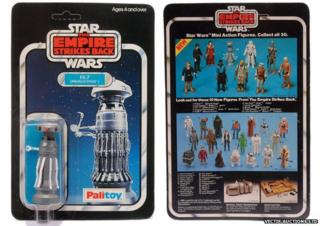 A Star Wars toy valued at £50 has sold for £7,000 at auction.
The medical droid, featured in the 1980 film The Empire Strikes Back, went to an unnamed bidder after being auctioned on Teesside.
Vectis Auctions said the sale and another of an imperial commander figure from the same collection, which went for £3,000, "broke world records".
Auction spokeswoman Louise Harker said she hoped the vendor would be "pleasantly surprised".
"We are seeing TV and film-related items, such as Star Wars, becoming increasingly popular," she said.
"The early editions are highly sought-after and even the newer cards in pristine condition can command premium prices.
"These items all came from the same collection. The vendor had no preconceptions about what they would fetch and was delighted with the presale estimates given.
"We are not sure if he was watching the sale but we hope he will be pleasantly surprised by the final price realised for his items."
'Increasing hunger'
The figures - 3¾ inch tall (9.5cm) - were boxed and described by the auctioneers in Thornaby as "near mint to mint".
A Luke Skywalker figure fetched £4,200 having had a guide price of £300-400, while a Darth Vader toy sold for £2,100 having also been valued at £300-400.
Ms Harker added: "The condition of the lots is a key factor in gaining prices such as these - the unpunched card, the condition of the card itself and the bubble which the figure is contained within and, of course, the all-important factory seal.
"Sometimes all it takes is for two collectors to be missing one figure from their collection to push up the value.
"There does not seem to be enough of these original Palitoy cards on the open market to satisfy the increasing hunger of Star Wars collectors."