Henry Witham: Local hero and loveable rogue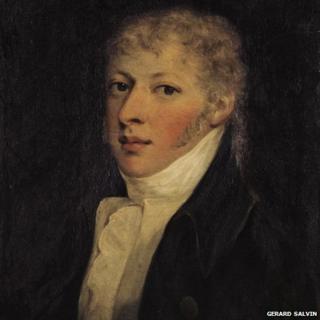 For the people of Barnard Castle, a market town in County Durham, Henry Witham is a much-loved historical figure.
However, the philanthropist and noted palaeobotanist also squandered his family's money, and some believe he double-crossed a colleague with whom he published pioneering work.
Henry Thomas Maire Silvertop Witham was born in 1779, but by then the family's wealth - from a North East coal-mining business - was in decline.
It was saved when his mother inherited three estates, and Henry took over their management.
'Father's extravagance'
Unfortunately, he was more interested in indulging his passion for fox hunting and horse racing, to the detriment of family finances.
Two of the estates had to be sold off to meet his debts of £105,000, with only Lartington Hall in County Durham retained.
One of his sons was later quoted as saying: "I would have been the richest commoner in England had it not been for the extravagance of my father."
In 1826 the family left Lartington to escape creditors and moved to Edinburgh.
It was there Witham became interested in a great fossilised tree that had been found in the city.
He acquired some samples and took them to William Nicol who had training as a botanist, and found a way to grind rock until it was so thin light could pass through it.
These were returned, in the form of slides, along with extensive notes, to Witham, who worked with an illustrator to create what became a landmark book on the internal structure of plant fossils - Fossil Vegetables.
In the introduction Witham stressed that he owed a great debt to his "indefatigable friend Mr Nicol".
However, Nicol believed that this amounted to intellectual theft, especially after his name was omitted from an expanded second edition.
'Project manager'
The book catapulted Witham to stardom, and when Nichol died in 1851, it was commonly believed that Witham was the true pioneer in the field.
In 2011, some of these slides, which formed part of the British Geological Survey's unregistered fossil plant collection, were rediscovered by Dr Howard Falcon-Lang from Royal Holloway, University of London.
Dr Falcon-Lang has concluded that Witham plagiarised Nicol's work, publishing it as if it were his own.
He said: "Witham was very important in the field, but he had no real information of his own; he was more like an enthusiastic project manager."
In 1832, Witham's mother died and he returned to his inheritance at Lartington, as local squire.
Cheering crowds greeted him, and he was reported to be so moved by the warm welcome that he declared himself to be a champion of reform between the different classes.
He helped set up two charities to improve the living standards of the working poor: the Barnard Castle Mechanics Institute, which provided access to educational opportunities; and the Dispensary Society, which helped those who could not afford doctors' bills.
A few months before his death in 1844 he was was appointed Deputy Lieutenant of County Durham.
The two charities had been housed in rented accommodation, but after Witham died it was decided they should have a permanent home in a new building.
Witham Testimonial Hall, named in his honour, opened its door to the public in April 1846.
After years of neglect, the Grade II-listed building has been refurbished and is now a community and cultural centre.
To celebrate the reopening it is hosting exhibition marking Henry Witham's life.
A portrait of him loaned by the ancestors of his son-in-law, an original copy of his landmark book, and some of the microscope slides of fossils are on display.
Laura Brown, heritage programme co-ordinator for the Witham, said: "Henry Witham was a figure shrouded in mystery until fairly recently.
"The exploration of the truth has revealed a fascinating story of a loveable rogue whose financial misdemeanours, double-crossing and philanthropic endeavours have left a remarkable legacy."