Hartlepool Heerema gas field project brings 250 new jobs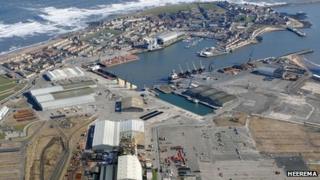 A Teesside firm has announced 250 new jobs for a project involving a North Sea gas field.
Heerema Fabrication Group has created the posts at its Hartlepool yard for work on the Cygnus gas project.
In 2012, the firm won an order to build part of four production platforms to explore and extract gas from the Cygnus field off the coast of Lincolnshire.
Hartlepool MP Iain Wright welcomed the announcement and said it was a "great example of British engineering".
A total of 700 people will now be working at the yard in 2014 and 2015.
Heerema said the Cygnus development would provide gas to about 1.5 million homes in the UK.