Cleveland Police and Crime Commissioner defends £85,000 role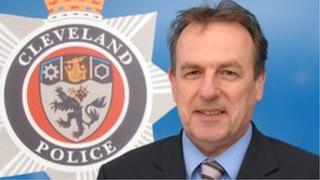 Cleveland's police and crime commissioner (PCC) has defended his decision to advertise a chief of staff job, with an £85,000 salary, amid budget cuts.
The advertised role's salary has been criticised because the force faces savings of £20m over six years.
Stockton South Conservative MP James Wharton said the wage would pay for three police officers.
But PCC Barry Coppinger said the role carried a lot of responsibility.
The job advert says the successful candidate will run the PCC's office - a team of 12 - and will be involved in "resource planning, partnership working and the scrutiny of performance".
Ed Chicken has held the role up until now on a secondment from Middlesbrough Council.
Mr Wharton said: "There are complaints that Cleveland Police is cash-strapped but is now appointing a chief of staff on £85,000 to manage 12 people - that money could pay for three police officers.
"Many people will be shocked by the size of this salary."
All PCCs are required to appoint a head of their staff.
A statement from Mr Coppinger said: "The chief of staff role has a broader range of responsibilities than previous Police Authority roles and combines the job of monitoring officer, which is a legal requirement.
"The costs involved in this post are less than the costs for similar roles in the previous police authority."
He said the salary needed to be competitive to attract the right people and said he had previously invited Mr Wharton to discuss his concerns face-to-face.