Teesside power restored after lines and pylons battered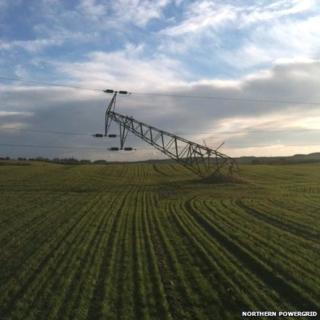 Power has been restored to thousands of homes across Teesside cut off by overnight storm damage.
At one point, more than 60,000 properties across the North East and Yorkshire lost power.
Northern Powergrid said those still without electricity should be reconnected by the end of Thursday.
Extra staff had been working in "pretty dangerous conditions" in the wind and darkness, spokesman Roderick Stuart said.
Wednesday night's wind was stronger than the 50-55mph (80-88km/h) power lines can withstand, and some cables had been brought down by storm debris, he added.
East Coast trains between Northallerton and Darlington are running again after damage to the rail network's overhead lines caused delays and cancellations.
The company said it was "carefully watching" the forecast for wind and rain on Friday and asked passengers to check before travelling.