Ambulance from Middlesbrough to Newcastle 12 hours late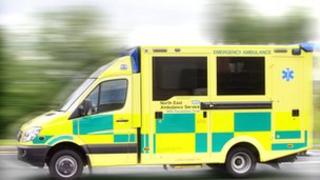 An ill woman with cancer had to wait 12 hours for an ambulance from Middlesbrough to Newcastle.
Charlotte Pocklington, from Guisborough, had been diagnosed with a rare tumour and needed treatment at the Freeman Hospital.
An ambulance booked at midday for that afternoon did not arrive until 04:00 GMT the next day, her father said.
The North East Ambulance Service said it was investigating the case but would not comment further.
Miss Pocklington, 20, was scheduled to be moved from James Cook University Hospital at 16:30 GMT but was told her ambulance had been diverted.
Her father, Colin, who is a volunteer first responder for the North East Ambulance Service, said he understood his daughter's transfer was classed as non-urgent and emergencies would take priority.
But "surely there must have been one crew available in the whole of the north east" in the time his daughter was waiting, he said.
Royal College of Nursing regional officer Gregg Canning said cases of patients in the region waiting far longer than guidelines specify were "well documented".
"The problem is essentially one of resources and bed blocking," he said. "Ambulances are getting tied up at A&E departments because hospitals are full."