More than £13m pledged to boost Teesside flood defences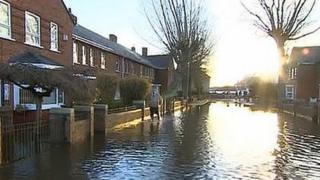 A pledge to spend more than £13m on improving flood defences on Teesside has been welcomed.
Dozens of homes in Port Clarence, Skinningrove, Greatham and Stockton have been affected by severe flooding over the past two years.
Floods Minister Dan Rogerson confirmed £13.3m will be spent on projects in the area over the next 18 months, which will protect more than 600 properties.
Stockton Council said the cash was a "welcome relief" for many residents.
A £1.7m scheme will help to protect 183 homes and businesses near Lustrum Beck which were hit by flooding in Autumn 2012.
A further £2.2m will fund a project at Skinningrove, where 126 properties are at risk.
'Damage and stress'
A £9.4m scheme to protect 351 properties at Port Clarence - proposed last year - has been confirmed. In December residents there were hit by devastating floods resulting from the highest tide recorded in the area for 150 years.
Stockton Council's cabinet member for environment, David Rose, said: "There is a vital need to improve flood defences for Port Clarence and Lustrum Beck so this is excellent news and a welcome relief for many residents.
"December's floods in Port Clarence were a reminder of the devastating impact flooding can have on our communities."
Stockton South MP James Wharton added: "Flooding causes a huge amount of damage and distress so I am sure this investment will mean a lot to the people who will benefit from the protection it affords.
"I had raised our need for funding a number of times with the minister and I know Stockton Council was also pushing hard.
"The sooner these works can be completed the better."