Billingham energy plant workers walk out in pay row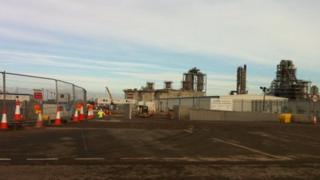 Workers building a waste-to-energy plant are holding an unofficial strike in a dispute over pay and bonuses.
Up to 200 workers involved in the construction of the Tees Valley Renewable Energy plant near Billingham walked out on Wednesday.
A spokesman for project developers Air Products said about 900 people worked on the site and construction had not been halted by the action.
He said he hoped they would be back in work on Monday.
Construction of the multimillion-pound plant started in 2012 and it is expected to be opened later this year.
The spokesman said once the plant is running it will take waste from the North East and convert it into electricity, which is expected to supply 50,000 homes.