Darlington FC 'crowdfunds' to pay for return to home town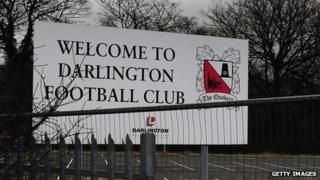 Darlington Football Club has "crowdfunded" more than half the money it needs to become financially stable, it said.
Sixteen investors have donated just over £26,000 in a month.
The Northern Premier League club said it needed £50,000 to pay off debts and a further £100,000 to fund a return to its home town.
The scheme to attract small amounts of money from a large number of investors was launched in December.
The club has been groundless since 2012 when it was forced to leave the 27,000-capacity Darlington Arena.
The cost of the stadium contributed to financial difficulties that resulted in the club going into administration in 2009, for the third time in ten years.
It currently plays home games at the Bishop Auckland FC ground at Heritage Park but is hoping to share Darlington Rugby Club's ground at Blackwell Meadows.
Darlington FC chief executive Martin Jesper said the "crowdfunding" investment method, developed by Glasgow company Squareknot, would help the club achieve financial stability without risking further debt.