Police called to Rainbow Ark animal sanctuary protest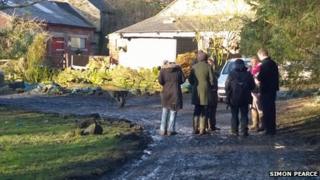 Police have been called to a protest by supporters of an animal sanctuary repossessed by a mortgage company.
Paula Campbell, who ran the Rainbow Ark shelter at Willington, County Durham, was evicted by bailiffs on Wednesday after falling behind with mortgage payments.
A campaign to pay for re-homing more than 300 animals raised over £30,000 in 48 hours.
The mortgage company, Redstone Mortgages, was unavailable to comment.
It had previously declined to talk about the repossession.
Ms Campbell said she was "beyond distraught" at being evicted.
The RSPCA said it had been helping to care for the animals since Wednesday but had now left the site.
"We became involved after receiving a call from the bailiff's company late that day, asking for our help, and knew nothing about this situation at all before then," a spokeswoman said.
It is understood the animals on site are now being looked after by a firm hired by the mortgage company.
Durham Police confirmed officers had been called to the sanctuary.