Stockton jail inmates missed by 'poor' safety checks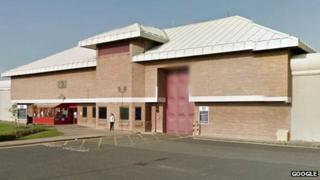 Poor first-night safety checks may have missed vulnerable inmates at a jail where five self-inflicted deaths occurred, a report has found.
An unannounced inspection took place at HMP Holme House in Stockton in August.
HM Chief Inspector of Prisons' report found "a real danger" that those who needed support might be overlooked.
The National Offender Management Service (NOMS) said concerns are being addressed and "arrangements are in place to meet wider recommendations".
The report claims there is evidence of two further self-inflicted deaths since the inspection.
However, it also found the care for inmates identified as being at risk of self-harm was good and "most officers" had been trained in mental health awareness.
'Dirty cells'
HMP Holme House is a large category B local prison for male adult prisoners who are either remanded in custody or convicted.
It also accommodates a small number of young offenders who have not been sentenced.
HM Chief Inspector of Prisons, Nick Hardwick, said it has to make a "difficult transition" to the new arrangements its staffing levels require.
He added: "Despite these challenges, important progress has been made since the last inspection. Ensuring adequate first-night arrangements, that prisoners can deal with their basic personal needs and that all prisoners receive equitable outcomes are key priorities for the future."
The report said safety screening processes were inadequate as interviews were not conducted in private, were insufficiently focused on vulnerability and consisted of a tick-sheet questionnaire in reception.
There was no personal first-night interview with a member of staff, it said.
Other concerns included an issue of "little support from staff or prisoner mentors" for those new to prison, dirty cells, broken equipment and insufficient phones and showers.
The report included a survey taken by more than 200 prisoners in which 44% said it was easy to obtain illegal drugs.
The previous inspection highlighted a major problem with the misuse of drugs and, although there has been a "significant improvement", inspectors were told that more than half of suspicion tests requested since May 2013 had not been completed because of a staff shortage.
Michael Spurr, chief executive officer of the NOMS, said: "We are determined to maintain momentum and, once established, the new working arrangements will ensure that we continue to deliver a good quality regime but at lower cost to the public."