Athlete Chris Tomlinson's anxiety at Clairville Stadium loss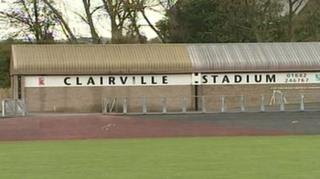 Olympic long jumper Chris Tomlinson has said he hopes the sports facilities planned as a replacement for a 50-year-old stadium live up to their promise.
Clairville Stadium has been earmarked for closure as Middlesbrough Council faces further budget cuts of £15m.
Work is due to start later this year to make way for more than 150 houses.
The Middlesbrough-born athlete said he hoped planned new facilities would not turn out to be inferior to those they replaced.
The closure of Clairville, which marked its 50th birthday last year, comes as part of £14.9m cuts to the council's 2014-15 budget - on top of more than £40m of cuts over the past three years.
The plan is for a new regional sports village at the existing Prissick site off Marton Road, about half-a-mile away, including a 400m athletics track, indoor and outdoor tennis courts and a gym.
Athletics 'should flourish'
Tomlinson, 32, has represented Great Britain for more than a decade, competing in the Olympics and World Championships, won a bronze medal at the 2010 European Championships and finished sixth at London 2012. He has trained at Clairville and said it had a great heritage and many people in the town had links with it.
He said it was important to keep the town's athletics "flourishing".
Tomlinson said: "I am not someone who wants to be stuck in the dark ages. I do realise that they want to build a sports village, they do want to upgrade the facilities."
He said he "hoped we get given what we have been promised" but also wondered where the money would come from.
Some residents have told of their concerns of the potential for more traffic in the area from the new homes.
Clairville ward councillor Bob Ward said it was not his "ideal situation" but said local authorities were being forced to make such decisions because of the economic climate.
The Don Valley Stadium in Sheffield is already being demolished as part of cost-saving measures.
Sheffield City Council made the decision last year to close the stadium, where Olympic heptathlon gold medallist Jessica Ennis-Hill trained, and demolition started in November.