Redcar and Cleveland council to draw up flood plan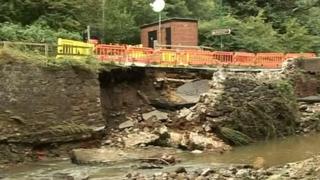 An action plan to alleviate flooding is being drawn up by Redcar and Cleveland Council after families were evacuated following torrential rain in September.
Cars were swept away in Saltburn and 60 homes evacuated in Redcar after "extreme rainfall" hit the borough.
The Environment Agency recorded 155% of the average monthly rainfall for the area in a six-hour period.
The council has been examining its flooding strategy so it can "cope better" in the future.
An independent report, to be presented to the council's cabinet on Tuesday, describes the storm on 6 September as an "extreme weather event only likely to occur once in 250 years".
Councillor Helen McLuckie said: "The report states that the main cause of the flooding was the extremely heavy rainfall which simply overcame the capacity of the drainage systems.
"Although there is some room to improve drainage the main action to tackle flood risk is to develop surface water management plans."
The scheme would hold surface water back from the drainage systems until the extreme weather has subsided.
The council said it would also work with private industry to look at ways of "improving" surface water flow through large industrial sites.
A review of the maintenance policy of about 29,000 highway gullies and the council's emergency response procedures are also recommended.