Cleveland Police fire baton round at Middlesbrough man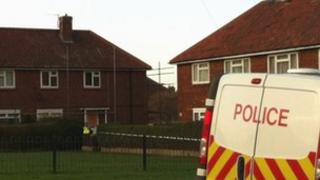 Armed police fired a "rubber baton round" at a man claiming to have a gun at an address in Middlesbrough.
Armed and unarmed officers cordoned off the property on Durnford Road at about 22:30 GMT on Friday.
In response to the man's actions, a baton round was discharged at about 23:30 GMT, Cleveland Police said. He was taken to hospital for treatment.
The force has referred the incident to the Independent Police Complaints Commission.
The 46-year-old man's injuries are not believed to be life threatening, police said.
He has been arrested in connection with the incident.
Cleveland Police said no-one else was in the address at the time of the incident and no-one else was injured.
Baton rounds, colloquially known as "plastic bullets", are designed as non-lethal ammunition and are generally used for riot control.