Bowes Museum facade displays Gavin Turk neon artwork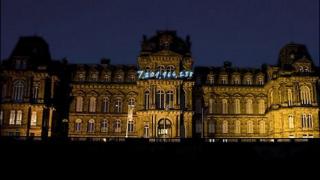 The 19th Century facade of a County Durham museum has been transformed to display a neon artwork representing the Earth's population.
The number 7,201,964,238 is an estimate of the number of people on the planet when Gavin Turk's exhibition opened at 18:00 GMT on Friday.
The blue neon sculpture was funded by an online appeal which raised £6,000.
Inside the museum, a collection of the 47-year-old British artist's other neon works will be on display until April.
Museum bosses say the blue neon sculpture will be visible for miles around including the nearby A66 trans-Pennine road route.
Staff worked for several days to install the 2ft 6in (70cm) high numbers.
Mr Turk said: "This is the largest neon sculpture I have ever made.
"It has been a challenge to actually get it all up there.
"The building itself is very articulate and has a lot of detail on it and the sculpture is very ambitious.
"In order for a number like this to actually show up and to work on the scale it does I had to create a fairly large piece."
The museum's digital communications officer Alison Nicholson said the project had "captured people's imagination."
She added: "Just having a huge neon number on the front of the Bowes Museum, which is a fantastic example of 19th Century French architecture, is a lovely idea.
"It will depend a lot on the weather how the installation goes, but we're very optimistic and thrilled at the prospect."
The neon population figure is based on various world population counters found online, each using various sources of data and computing techniques to estimate birth and death statistics.
Mr Turk said he calculated an average of those and used his own algorithms to estimate the population at the exact time the exhibition opened.
The number will be visible until the exhibition ends on 21 April.