Darlington Arts Centre proceeds 'reinvested'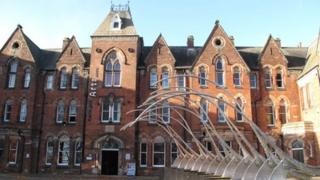 Darlington's former arts centre has been put up for sale, with the council promising a "substantial" investment in the arts from the proceeds.
The venue, in Vane Terrace, closed in 2012 as part of the authority's £11m budget cuts.
Interested parties have until 10 March to submit tenders for the properties, which include the 1875 building and the former caretakers' house.
The council described it as a "positive step for the future of the site".
Councillor Steve Harker, cabinet member for efficiency and resources, said: "We have consulted local residents before preparing the brief and we are aware of their concerns.
"One of the main ones being that the site is put to good use in the near future and not left to become derelict.
"Once the sale is complete... a substantial amount of money can be reinvested in the arts to continue the legacy of the Arts Centre in Darlington."