Middlesbrough Council faces further £15m budget cuts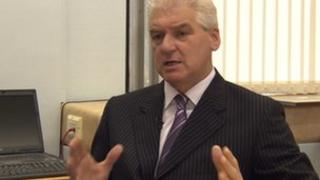 Middlesbrough Mayor Ray Mallon has said the council will change "almost beyond recognition" after recommending cuts of nearly £15m to the 2014/15 budget.
The £14.9m of cuts are in addition to more than £40m removed over the last three years.
The move will see "significant reductions" to a number of services, the loss of about 300 jobs and the closure of some council-run facilities.
Mr Mallon said the cuts were "too deep, too quick and savage".
Mr Mallon outlined his recommendations for 2014/15 at a council meeting on Monday following a six-week consultation.
The council predicts it will have to cut a total of £67m from its budget by 2016 with up to 1,200 staff losing their jobs.
Mr Mallon said that "contracting out" did not mean "privatisation" and "unacceptable" practices such as zero hours contracts "would not be permitted" by the council.
The Clairville Stadium, Middlesbrough Teaching and Learning Centre, the TAD Centre and the Register Office have been earmarked for closure.
Mr Mallon said "it remains the case that this council must change almost beyond recognition and people will see a reduction in services and a change in the urban environment".
"It has been clear from the outset that the cuts imposed on us are too deep, too quick and savage, but we have no choice but to find these savings if we are to balance the books."
Middlesbrough Council said the budget will be finalised in March.