Mother and son Doreen and John Hay share £7.5m Lotto win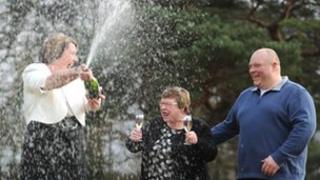 A mother and son from Teesside have scooped £7.5m on the National Lottery after buying an extra lucky dip ticket on the spur of the moment.
John Hay, 38, of Billingham, and his mother Doreen, 70, of Thornaby, only found out they had won on Sunday when she checked the newspapers.
Mr Hay sped over to see his mother after she phoned to say: "We've won."
The pair and Mr Hays' partner Susan Robinson, 39, are now planning a trip to Disneyland in Florida.
Mr Hay said: "I checked the numbers three times. I couldn't believe it so I sat down and then checked again. It was then I realised we'd won £7.5m."
After phoning the National Lottery, Mr Hay called his partner Susan, a customer services representative. The couple, who are renting, plan to buy a dream home and go away as their last holiday was seven years ago.
His mother intends to move from her upstairs flat into a bungalow, treat her three grandchildren, seven brothers and sisters, and her ex-husband, also called John.