Cleveland Police corruption probe complete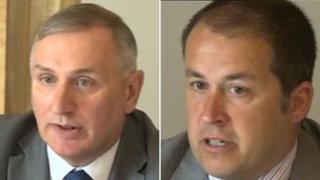 A criminal investigation into allegations of corruption at Cleveland Police has been completed, the force carrying out inquiries has said.
Nine people arrested as part of Operation Sacristy have also had their bail extended to 13 February.
Warwickshire Police said it had handed its files to the Crown Prosecution Service (CPS), which would decide whether charges would be brought.
The operation, which started in May 2011, has cost an estimated £4m.
It focussed on "people with current or past associations" with Cleveland Police Authority.
Cleveland's former Chief Constable Sean Price and former chair of the Police Authority Dave McLuckie were among ten people arrested.
One of those, the former deputy chief constable Derek Bonnard, was later told he would not face criminal charges but was sacked for gross misconduct.
Warwickshire Police said in a statement: "An advice file was submitted to CPS in May 2013, and there have been further submissions since with the last submission of material being made to CPS in December 2013.
"It is the independent and statutory role of the CPS to determine whether any criminal charges should be put before the courts and we await their charging decision.
"The Operation Sacristy investigations into both misconduct and criminal allegations are now considered complete."