Kirsty Cox jailed for two years for £450,000 iPad scam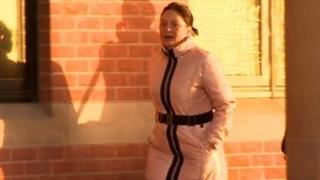 A woman who defrauded hundreds of customers in an iPad scam worth £450,000 has been jailed.
Kirsty Cox, from Newton Aycliffe, County Durham, took thousands of orders for the tablet computers between March and December 2012 after claiming she could source them at a reduced price.
Teesside Crown Court heard how the 37-year-old was paid for the devices but could not provide them.
Cox, who previously admitted four fraud charges, was jailed for two years.
Judge George Moorhouse said her offending had "caused misery" to children last Christmas after "tricking" their parents into thinking she could supply the presents.
The mother-of-two told people she had a contact who could provide her with iPads for £50 to £100 off the retail price, using her "niceness" to "deceive" customers, the court heard.
'Trusted her 100%'
Cox's former sister-in-law Karen Kennedy and her husband Saul took cash from work colleagues which they passed on to her.
Mrs Kennedy said: "I had a really close relationship with Kirsty and she had a really good reputation.
"She told me that she could get really cheap iPads and she had been supplying them to loads of companies and she just asked me to spread the word at my work.
"I trusted her 100% and I had no reason not to."
The court heard how on one occasion Cox spent £1.52m on iPads from PC World and then sold them at a loss in a bid to cover her tracks.
When she was arrested in December 2012, Durham Police kept her in custody for her own safety after angry customers gathered outside her home demanding to know what had happened to their orders.
Det Supt Neil Jones from Durham Police said: "The actual real cutting effect was for the people who had been saving the small amounts per week to buy iPads for the kids for Christmas.
"To find out the week before that your goods weren't coming was devastating, people's Christmases were ruined."
Mr Jones said one lady cancelled her own wedding to try and pay back the people she had taken money from to give to Cox.
Saul Kennedy said: "You're feeling everyone's pain and you can understand why everyone is so angry, but you feel absolutely helpless.
"You're in a situation where you can do nothing about it but these people have trusted you with their money. You are responsible."
Hundreds of people are believed to have been victims of Cox's scam. Shaun Dodds, prosecuting, said the actual loss to customers was more than £1.1m.
Judge Moorhouse jailed Cox as she wept in the dock, despite hearing that her family had suffered while she spent six months on remand.
He said: "You have two young children who suffered miserably while you were on remand.
"I am afraid they are going to suffer even more."