Wilton UK Wood Recycling plant fire weather hope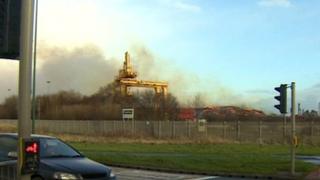 Improved weather conditions may help crews tackling a major fire at a wood recycling plant on Teesside, fire officials say.
About five appliances remain at UK Wood Recycling near Redcar, after the blaze broke out on Christmas Eve.
It is expected to take a few more days to extinguish fully.
Cleveland Fire Brigade said because the wind had dropped it was easing the problem of the smoke which had been affecting nearby residential areas.
Steve McCarten, from the brigade, said that crews at the scene were fighting the fire "defensively".
"There's still a lot of fuel underneath", he said.
"If we pour water on it now, which people naturally expect us to do, then we'll just create more smoke and cause more trouble.
"So we'll just allow it to burn out, that's the best way to deal with it under the circumstances, but it could take several days."