Human remains found in woodland near Billingham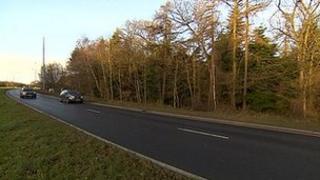 Human remains have been found in woodland near Billingham on Teesside.
A member of the public alerted police after coming across a skull in a heavily wooded area close to the Wynyard estate on Wednesday.
Initial tests show the remains, which also include five pieces of vertebrae, are that of man in his 40s who died about five years ago.
Further DNA tests are now being carried out and checks are being made on missing people.
Police only revealed the find on Saturday.
A Cleveland Police spokesman said a cordon had been set up around the scene and fingertip searches were being carried out.
He added: "Nothing else has so far been discovered at the scene.
"We are keeping an open mind as to the reasons why the bones may have been at the location.
"DNA tests are currently being carried out to try and identify the man.
"Officers will also be speaking to local forces about any outstanding missing people who match the descriptions given by the anthropologist."