Ex-Cleveland Police chair Dave McLuckie 'put frighteners on' friend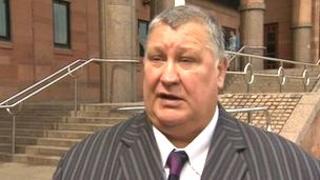 A former police authority boss "put the frighteners" on a man he thought was giving evidence against him in a corruption inquiry, a court has heard.
Dave McLuckie, who was chairman of Cleveland Police Authority, is accused of being aggressive towards his friend and former taxi driver, Peter Blyth.
Mr McLuckie, 52, was on bail as part of the Operation Sacristy investigation at the time of the alleged threats, Newcastle Crown Court heard.
He denies intimidation.
Mr McLuckie, from Great Ayton, North Yorkshire, went to Mr Blyth's home and warned him "you don't know what I can do", the court heard.
'Air of authority'
Mr Blyth said Mr McLuckie seemed "agitated" and asked what had been said to the police.
"I was uneasy," Mr Blyth said. "The same as I am now. He always had the air of authority about him. He was in charge."
The court heard Mr McLuckie was convicted in June of perverting the course of justice, after persuading a friend called Maurice Ward, now deceased, to take penalty points for him to avoid a driving ban.
Police had spoken to Mr Ward's widow Nancy, who told them Mr Blyth may have information about Mr McLuckie, the court heard.
'Forceful and aggressive'
The defendant got to know what she had said from a police report, the jury heard.
Nick Dry, prosecuting, said Mr McLuckie was "forceful and aggressive" and, in relation to his allegedly working as an unofficial taxi driver, warned Mr Blyth he could lose his home if the tax authorities found out.
Operation Sacristy is a long-running criminal inquiry into allegations of corruption surrounding the now defunct police authority.
Mr Dry said: "The defendant and others, including the former chief constable, remain on bail pending a charging decision."
Mr McLuckie's trial continues.