Fund to help flood-hit families in Port Clarence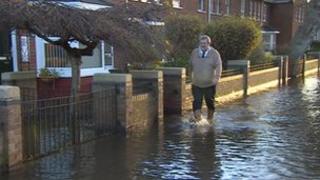 A fund has been set up to help people who were affected when the River Tees burst its banks following the highest tide recorded for 150 years.
Money will come from the Billingham Legacy Foundation to help families living in the homes that were evacuated from the Port Clarence area.
The fund uses the interest from money that ICI, a former owner of Teesside's chemical plant, left to the community.
Some families will be unable to return to their homes until after Christmas.
'Sludge and contamination'
Pat Chambers from the foundation, said: "One thing about having a community fund, you can make those decisions quickly and because you're there giving practical help on the ground you know those families who are in most need.
"Underneath the properties there will be sludge and contamination and that will take many weeks to clear, but it's got to go through the drying process before you put new flooring and and furniture."
Alesha Allen and Suzanne Brockman live in Port Clarence and their street is littered with discarded carpets and furniture.
Ms Brockman said: "It's a lot of stress, you can't really enjoy this time of year when all this has happened. You've got so much to worry about and you can't relax.
"We need carpets, flooring, sofas, all of it [has been] destroyed."
Amy Golightly has been told she will not be allowed back into her house in time for Christmas.
"It's heartbreaking, not just for myself but everyone living in these two streets," she said.