Middlesbrough grooming case: Council to review agency links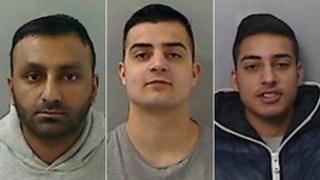 A council is reviewing arrangements at its children's homes following the conclusion of a sexual exploitation case on Teesside.
Middlesbrough Council is assessing contact with other agencies after a 13-year-old girl in its care was groomed.
The authority said staff could not legally prevent the girl from leaving.
"An initial review has shown no evidence that staff could have acted differently to prevent these crimes from occurring," the council said.
The jury found six girls from the town were victims of exploitation by a "loosely connected" group.
'Communication improvements'
Two men and a 17-year-old boy from Middlesbrough are awaiting sentence following the trial at Teesside Crown Court.
The council said it was "clearly a matter of concern" that a girl in its care "should be exploited in this way".
"Staff at the children's home in question did all they could to ensure the girl was protected, but were legally unable to prevent her leaving the premises," a spokesman said.
"We will look at possible improvements in communication between agencies, and a further review will take place once legal proceedings have been completed and we have had an opportunity to consider any comments made by the trial judge."
The council, which commissions residential care from other providers, said only children legally placed in "secure accommodation" could be prevented from leaving homes.
Councillor Brenda Thompson, executive member for children's services, said the case highlighted the importance of agency co-operation in identifying victims and bringing perpetrators to justice.
Taxi driver Shakil Munir, 32, of Tollesby Road, was found guilty of four counts of sexual activity with a child and one of child abduction.
On the eve of the trial, Sakib Ahmed, 19, of Cambridge Road, admitted five counts of sexual activity with a child.
Ateeq Latif, 17, of Abingdon Road, was convicted of two counts of arranging or facilitating the commission of a child sex offence.