RAF helicopter aids Seal Sands flood defence repairs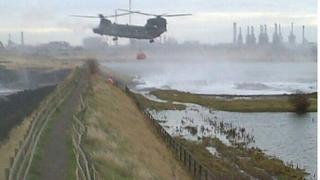 An RAF helicopter has been brought in to help repair damage to flood defences on Teesside caused by Thursday's storm and tidal surge.
Hundreds of homes were evacuated in the Port Clarence area after the River Tees burst its banks.
The Environment Agency said the Chinook aircraft was being used to bring in building materials to reconstruct damaged flood banks at Seal Sands.
The highest tide in 150 years was recorded on Teesside, the RNLI said.
A major clean-up operation is continuing throughout the area.
The weather caused disruption in central Middlesbrough, which was plunged into darkness when a sub station flooded.
A flood warning remains in place for the Tees Estuary at Port Clarence and Haverton Hill.
Roof damage
There are lower risk flood alerts for the area around the River Tees, downstream of the Tees Barrage, including areas of Middlesbrough and Billingham.
An Environment Agency spokesman said: "The flood warning for Port Clarence and Haverton Hill at Tees Estuary remains in force due to a breach in our embankment at Seal Sands."
Flooding to properties is unlikely, however it is expected that the surrounding area may experience low levels of flooding affecting transport routes and industrial areas.
"This flood warning remains in force and will be reviewed at midday on Sunday," the spokesman added.
Thousands of homes were left without electricity on Thursday, but Northern Powergrid said power had been restored to the majority of properties.
The roof of High Tunstall College of Science in Hartlepool was ripped off in storm-force winds.
In Middlesbrough, traffic and street lights were not operating and shoppers used mobile phones as torches to negotiate their way through the darkness.
Redcar and Cleveland Council Leader George Dunning, said Redcar's recently-upgraded sea defences had performed well in "extremely testing circumstances".