Barnard Castle's crumbling walls to be surveyed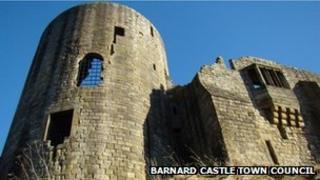 A study to examine the extent of damage to the crumbling walls of a 12th Century castle in County Durham is to start "within days", experts have said.
Sections of Barnard Castle's walls collapsed four years ago, but damage was left unrepaired because no-one has accepted responsibility.
Durham County Council, English Heritage and Raby Estates, have now agreed to fund a £50,000 structural survey.
A team of specialist engineers has been appointed to carry out the work.
The three organisations said they realised the importance of working together to resolve the "complex issue".
The structural survey will be carried out from County Bridge to properties behind Bridgegate.
'Complex and challenging'
In a statement, they said: "These early stages will be crucial in deciding the timeline and extent of the issues on location.
"This is a complex and challenging project for the team and the site will be subject to rigorous health and safety regulations for everyone's protection.
"It is therefore particularly important that anyone without the relevant permissions does not try to access the site, for their own safety.
"We would like to assure members of the public that this very intricate work is moving forward in the appropriate timescale and is being supported at all times by expert advice in recognition of the site's historic importance."
Set high on a rock above the River Tees, the castle is named after its 12th Century founder Bernard de Balliol.