Lotte Chemical plant in Wilton closes with 70 job losses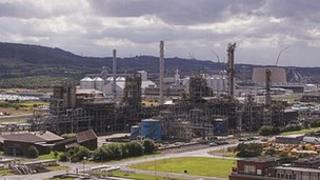 A chemical plant is to close with the loss of 70 jobs.
Korean-based Lotte Chemical, whose Wilton plant on Teesside was opened in 1981, blamed increasing production and energy costs for the move.
The company has made Pure Terephthalic Acid (PTA), used in the manufacture of plastic bottles and food packaging, for 40 years.
A spokesman for the company said the closure decision had been taken "very reluctantly and with great sadness."
He added: "Tremendous efforts by the plant teams to reduce costs and run in different operating modes have ultimately not been sufficient to overcome the fundamental lack of competitiveness.
"The decision to recommend closure has been taken very reluctantly, with great sadness and only after very careful consideration.
"We will commence a period of statutory consultation with employees to seek ways and means to mitigate the consequences of the proposed plant closure."
The plant produces about 500,000 tonnes of PTA a year.