Hundreds attend funeral of WW2 veteran Frederick Leach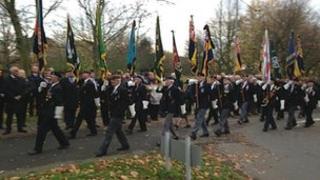 Hundreds of people responded to an appeal to attend the funeral of a 94-year-old Teesside war veteran.
Frederick Leach, who served with the Green Howards regiment, was honoured in 2005 for his part in the liberation of Norway in 1940.
He died on 6 November in a nursing home near Middlesbrough, having lost touch with his family.
But after an appeal by a local council, about 300 people attended a service to pay their respects to him.
Earlier this month, hundreds attended the funeral of World War Two RAF veteran Harold Jellicoe Percival in Lancashire, following an appeal for mourners by the funeral directors.
Redcar and Cleveland Council, who were responsible for managing Mr Leach's affairs before he died, launched their appeal in the wake of the response to the plea for Mr Percival.
Military record
Mr Leach almost died in 1940 when the battalion he served with was attacked by Nazi planes during a daring Norwegian mission.
Reverend Jon Edwards, minister of South Bank Baptist Church, took the service at Teesside Crematorium in Middlesbrough, which was attended by members of Mr Leach's family, the armed forces, fellow veterans and members of the public.
He told mourners: "Fred was a proud man. He was very proud of his military record, proud of the service that he had given to his country, proud to have served in the Green Howards.
"It was not something that he spoke about a lot. It was not something he spoke about easily and he certainly didn't see himself as a hero.
"'Those that didn't come back, they were the real heroes,' he used to say."
Speaking after the service, Sheelagh Clarke, Redcar and Cleveland Council's cabinet member for health and social wellbeing, said: "The response from the public and the armed forces community has been truly heart warming.
"Fred got the send off he deserved."
Before moving into the Briarwood Care Home in Middlesbrough, Mr Leach lived in Simpson Close, South Bank and married Annie Hazel Blenkey in 1988.