Council cuts put arts spending back under the spotlight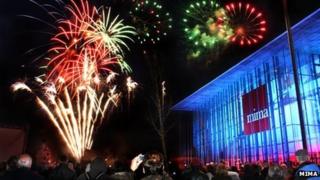 Faced with shrinking budgets and thousands of job losses, councils are again deciding how to save millions of pounds, leaving funding for arts and cultural venues increasingly under the microscope. But how important is culture when council budgets are squeezed?
Glistening in the November sun, Middlesbrough's mima art gallery is in pristine condition.
Almost seven years after it opened, the focal point of the town's Centre Square remains immaculate both inside and out.
But while it currently remains open, the gallery's future has been vigorously debated as the council has made cuts of £40m since 2011.
Its annual £1m funding package had escaped unscathed until mayor Ray Mallon outlined how £22m would be saved in 2014-15.
And amidst confirmation of 600 job losses, came the announcement that Teesside University would take over the day-to-day running of mima, saving the council about £350,000 per year.
Mr Mallon described it as the "perfect partnership", but for councillor Brian Hubbard, of Middlesbrough Independent Councillors Association, it does not go far enough.
"We were promised two years ago that mima was going to be placed into a trust, taking all the running costs away from the council," he said.
"We're losing vital services and loyal staff are being forced to leave. I just can't see how we're reducing litter picking, grass cutting and weed spraying when the money spent on mima could be used to save vital services."
At the same time as handing control of mima to the university, Mr Mallon is suggesting spending up to £2m on a "complete revamp" of its theatre.
The town is not alone in making difficult decisions on the future of its cultural offering.
Elsewhere in the North East, Newcastle has already halved its arts spending and neighbouring Gateshead is currently consulting on reducing its funding to venues including The Sage and the Baltic.
Jane Tarr, the Arts Council's director for the North, said the sector had to go on making the argument that arts and culture spending was beneficial for towns and cities.
"It's tough for everybody at the moment, right across the North East and particularly for anybody who's got a connection with the public sector," she said.
"Having venues that create a strong sense of place and are distinctive is very important."
'Brightest and best'
The organisation has agreed support of £516,803 towards mima next year.
"It's important to think about how we're going to get out of this in the long term and continuing to use culture to promote the area and attract more jobs," Ms Tarr added.
She believes the university partnership will help mima attract a wider audience and points to the success of similar arrangements between Northumbria University and the Baltic, and Sunderland University with the city's glass centre that have helped put the region "firmly" on the cultural map.
Michael Lavery, assistant chief executive and director of external relations at Teesside University, said a formal partnership with mima was the "natural next step" after years of working closely together.
"Students come from all around the world to live in Middlesbrough and study in our School of Arts and Media," he sad.
"We saw this as an opportunity to bring the brilliance of mima closer to the university. It's about giving us an advantage when trying to attract the very best and brightest art students to come to Teesside."
'Cultural wasteland'
Inside the gallery a huge, imposing painting by local painter William Tillyer welcomes visitors to a retrospective of his work.
Described as the "finest painter in Britain" by the Sunday Times, Tillyer has followed others of international renown such as David Hockney and Alex Katz to the town.
Last year, the gallery missed its visitor target by more than 20,000 but in its own report, 'The Value of mima', claims to bring £800,000 to Middlesbrough each year with visitor satisfaction scores of 90%.
Retired teacher John Hargan visits regularly and insists mima is an "easy target" for criticism in the current financial climate.
"A lot of people have been critical about the amount of money that the council has had to put up to keep mima open but it means we've got a great cultural feature in the town," he said.
"If we didn't have mima, Newcastle would be the nearest place to go to experience art and Middlesbrough would be on the verge of being a cultural waste ground."