Hartlepool Council buys empty Jacksons Landing for £1.5m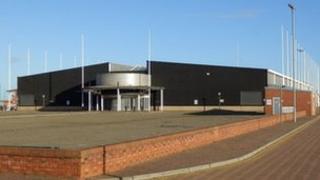 A building in Hartlepool which has stood empty for ten years has been bought by the council.
Hartlepool Council feared Jacksons Landing, a former shopping outlet at the marina, would lay unused for a "further decade" if it was not bought.
Council leader Christopher Akers-Belcher said the £1.5m purchase was part of wider proposals to "revitalise" key areas of the town.
He added that it was "totally unacceptable" to leave the site empty.
The five-acre site was previously owned by investment company Schroders.
The council said it has been paid for using a two-year interest-free loan from a government growth fund.
Mr Akers-Belcher said the building had been "a blight on the marina and the wider area and the prospect of that continuing for years to come was totally unacceptable".
"In spite of the current difficult economic conditions, the town must not stagnate," he said.
"It must grow and prosper and to achieve that, we must make the most of assets such as the Jacksons Landing site."