Middlesbrough mayor Ray Mallon halts Gresham demolition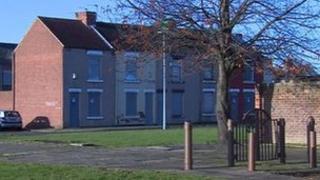 A plan to bulldoze hundreds more homes on Teesside has been abandoned after Middlesbrough mayor Ray Mallon admitted making a "mistake".
Almost 1,500 homes in Gresham and Middlehaven were due to be flattened in a regeneration scheme unveiled in 2005.
Demolitions have now been halted on a further 200 properties after the plan was scaled back for a second time in a "U-turn", Mr Mallon said.
Resident Linda Mole said the area had been left in "turmoil".
Only about a third of the homes earmarked for demolition have been or now will be torn down.
Mrs Mole, chair of Gresham Community Council, said the original plan was "too ambitious" and she was happy a final decision had been made.
"It seems to have taken an awful long time," she said. "It's a long time for an area to be in turmoil.
"This was always hanging over Gresham, would he or wouldn't he, and now we can draw a line under it."
Middlehaven councillor John McPartland said he was pleased families knew their homes would not be demolished.
More than 600 homes were withdrawn from the scheme in 2010 after government funding arrangements changed.
Owner occupiers of the 200 homes withdrawn from the scheme on Wednesday will receive up to £6,000 from the council to spend on renovations and up to £10,000 from British Gas for energy efficiency work.
Landlords will be offered £3,000 but only if they contribute the same amount towards building work.
Mr Mallon said he took "full responsibility" for the uncertainty but it was no longer the right decision to borrow £14m to continue the demolitions.
"Gresham I think was a mistake in the sense that we advanced something like 1,450 houses," he said.
"I think if I could rewind the tape back to July 2005, I would have been suggesting 'let's do about 800 houses'," he said.
The mayor said it was right to "do a U-turn" rather than do something "completely stupid".
Mrs Mole called for the council to concentrate on the homes and families left behind on the terraced streets in the town centre.
"We need social housing at affordable prices," she said.
Mr Mallon told councillors at a meeting on Wednesday that a potential developer had been in discussions with the council for 18 months.