John-Paul Conley friends raise money for Laos search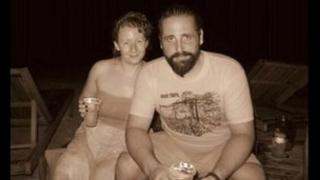 A British man is missing after being swept away in a strong current while swimming in South East Asia.
John-Paul Conley, 35, from Middlesbrough, is travelling in Laos with his girlfriend, Kate Downey.
Mr Conley's family and friends are raising funds to pay for a chartered search and rescue helicopter in an attempt to find him.
The Foreign and Commonwealth Office (FCO) said it was in contact with local authorities in the region.
Mr Conley was swimming in an area known as the 4,000 Islands on Tuesday, his partner's brother, Lee Downey said.
"He took a swim out in the falls and we understand there was supposed to be a safety net to stop people going so far out," Mr Downey said.
"The net wasn't there and he unfortunately got caught in this very strong current."
A five-hour search took place on Tuesday before another 12-hour effort on Wednesday, Mr Downey said.
"The search has predominantly been local fishermen with small boats," he said.
"Unfortunately the insurance won't fund a search and rescue helicopter and we feel the only way we're going to find him is to do it ourselves.
"He's a strong swimmer and our hope is he's made it to one of these islands where he's awaiting rescue."
Thousands of pounds has been raised so far.
An FCO spokeswoman said: "We were notified on 19 November of a missing British national in Laos.
"We are in close contact with the local authorities and are providing consular assistance."