Middlesbrough Council to axe 600 jobs to save £22m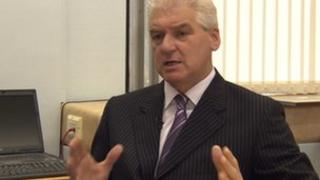 Public services in Middlesbrough face a "nightmare scenario" after cuts totalling £22m were announced by mayor Ray Mallon, a trade union has claimed.
About 600 staff will lose their jobs next year, leaving the council "on the brink", Unison said.
Mr Mallon told councillors they faced a "grave financial position" and warned merely "trimming and slicing" services was no longer a "viable option".
He said job cuts were "unavoidable" as the town was being "cut to the bone".
But there are hopes about 300 of the staff affected will transfer to the organisations which will take over the running of some council services.
Cuts to frontline services will amount to £5m, £10m will be saved by reorganising the council and a further £7m of "mitigating actions" have been identified to meet the funding gap.
The mayor recommended that the council rejects a government offer of a grant to freeze council tax and expects it to increase by almost 2%.
Union demonstration
Leisure centre opening times will be reduced and council buildings closed as part of the budget.
Mr Mallon said Teesside University would take over the running of the mima art gallery, saving the council £330,000 per year.
"In my opinion, this is the perfect partnership," he said.
Litter picking and street cleaning rounds will be halved, but the mayor wants the council to consider spending £15m on improving the condition of roads in the town.
The council predicts it will have to cut a total of £67m from its budget by 2016 with up to 1,200 staff losing their jobs.
Mr Mallon said: "In the face of such severe financial reductions, the law requires that the council must still set a balanced budget.
"Although this will result in cuts to services, as well as job losses, we must not become paralysed in moving this town forward for the future."
The government insists Middlesbrough receives more central funding than the national average.
Trade union members demonstrated outside the town hall as councillors arrived for the meeting.
Janet Greig, regional organiser for Unison, said: "With hundreds of jobs under threat, together with the services those workers provide, it is truly a nightmare scenario for the future of public service provision in Middlesbrough."
A public consultation on the mayor's proposals will run until early January.