WW2 veteran Frederick Leach's family traced after appeal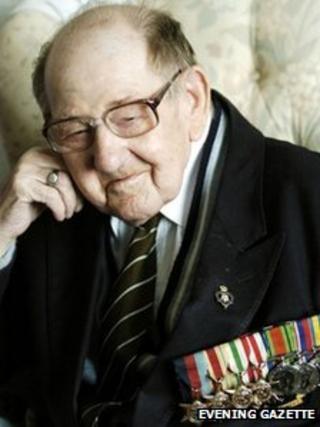 The family of a WW2 veteran has been traced after a council appealed for people to attend his funeral.
Frederick Leach, who served with the Green Howards regiment, was honoured in 2005 for his part in the liberation of Norway in 1940.
The 94-year-old died on 6 November in a nursing home near Middlesbrough without being in touch with family.
Redcar and Cleveland Council said members of the armed forces would also attend.
Earlier this month, hundreds paid their respects to World War Two RAF veteran Harold Jellicoe Percival in Lancashire, after an appeal from funeral directors.
Redcar and Cleveland Council launched their appeal on behalf of Mr Leach in the wake of the response to the plea over Mr Percival's funeral.
'Scores of calls'
A spokesman for the council, which is arranging the funeral, said some family members and the Green Howards Association had been in touch.
"We have heard from some of Frederick's family and they have given us their blessing to make the funeral arrangements," he said.
"We've had scores of calls from members of the armed forces and the Green Howards Association saying they would attend the funeral.
"The details are being finalised and we should be in a position to make an announcement soon."
He added that the funeral "was being arranged for next week".
Mr Leach almost died in 1940 when his battalion was attacked by Nazi planes during a Norwegian mission.
He was honoured for his part in the country's liberation during celebrations for the 60th anniversary of the event in 2005.
Before moving into the Middlesbrough home, he lived in Simpson Close, South Bank and married Annie Hazel Blenkey in 1988.