Lily Burton memorial window to late wife of Blair agent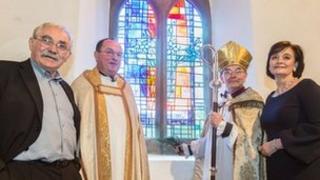 A memorial window marking the work done in County Durham by the late wife of Tony Blair's political agent has been dedicated at a village church.
The service, at St Mary Magdalene's church in Trimdon, was held on Saturday - the second anniversary of the death of 71-year-old Lily Burton.
Mrs Burton's husband John, was the former Labour prime minister and Sedgefield MP's agent for 24 years.
Cherie Blair attended the service, conducted by the Bishop of Jarrow.
Mrs Burton worshipped at St Mary Magdalene for more than 50 years and served as organist, flower arranger and church councillor.
'Nicest human beings'
The window was designed by stained-glass artist Bridget Jones and is based on the Magnificat, an ancient hymn that celebrates Mary. It also incorporates flowers to symbolise Mrs Burton's passion for flower arranging.
Tony Blair described Mrs Burton, who died in November 2011 from cancer, as "one of the kindest and nicest human beings" he had ever met.
Dedicating the window, the bishop of Jarrow, the Right Reverend Mark Bryant, said: "I like to think this window is a good memorial to a woman who over many years enriched the worship of this parish church.
"Lily was deeply committed to this community.
"In a world where we are often more and more isolated, where in our big cities people can lie ill or dead for days without anybody noticing, we need people who will still worry about community and community at its best ensures that people are not left out."
John Burton said: "Lily gave her life to this church and we are greatly honoured that the bishop came to perform the service. Lily was a great servant to the church."