Durham Tees Valley Airport plan promises 4,000 jobs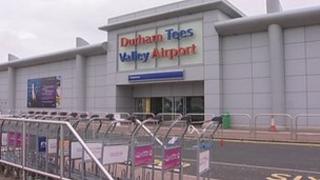 Up to 4,000 jobs are being promised as part of a long-term redevelopment of Durham Tees Valley Airport (DTVA).
The airport, which has seen passenger numbers fall by about 700,000 since 2006, is to fund the £280m scheme, in part by selling off land for homes.
Majority owner Peel Airports, wants to focus on business flights to Amsterdam and Aberdeen as well as developing new on-site aviation services.
The proposals will be the subject of a two-month public consultation.
DTVA strategic planning director Peter Nears, said the revamp would be phased up to 2020 and could ultimately provide a £380m boost to the regional economy.
Land assets
He said: "Few airports, even the largest, can survive on revenues from passenger traffic alone and many have established wider development platforms to diversify income sources to enable re-investment in airport services.
"The airport has land assets, which provide the development opportunities we must pursue if we are to improve the whole DTVA operation.
"The plan sets out a clear way forward and I ask all our stakeholders, the business community and the public to get behind it."
The plan proposes between 250 and 400 homes on land to the west and north of the existing terminal, including a field previously earmarked for a business park.
Also included would be areas of open space and child play areas.
'Important role'
The terminal building would be reduced in size and an extension added to the on-site St George's Hotel.
North East Chamber of Commerce chief executive, James Ramsbotham, said: "The plan is a bold and ambitious document that will hopefully secure the airport's long-term future by maximising its freight potential and considerable land assets.
"DTVA can play an important role in ensuring the North East remains connected to key business destinations and while it is disappointing that further investment will not be sought to increase the passenger offer, we are supportive."
Six councils have a minority stake in the airport, which changed its name from Teesside Airport in 2004.
Peel Holdings has twice made unsuccessful applications to the government's regional growth fund for extra investment.